Planning for a wedding can be, well, stressful. When you have vendors to book, invitations to send, and a dress to pick out (aka a million things to figure out,) it can be easy to overlook your skin. Many brides realize a few weeks out from their wedding date that they're unhappy with their complexion. By then, it's often too late to fix!
Avoid that unnecessary stress by following this bridal beauty timeline. Not only will it help you understand which skincare products to use and when, but there's some other tips along the way! Not sure when to get your spray tan? Need help with appointment scheduling? Check out this timeline for our advice.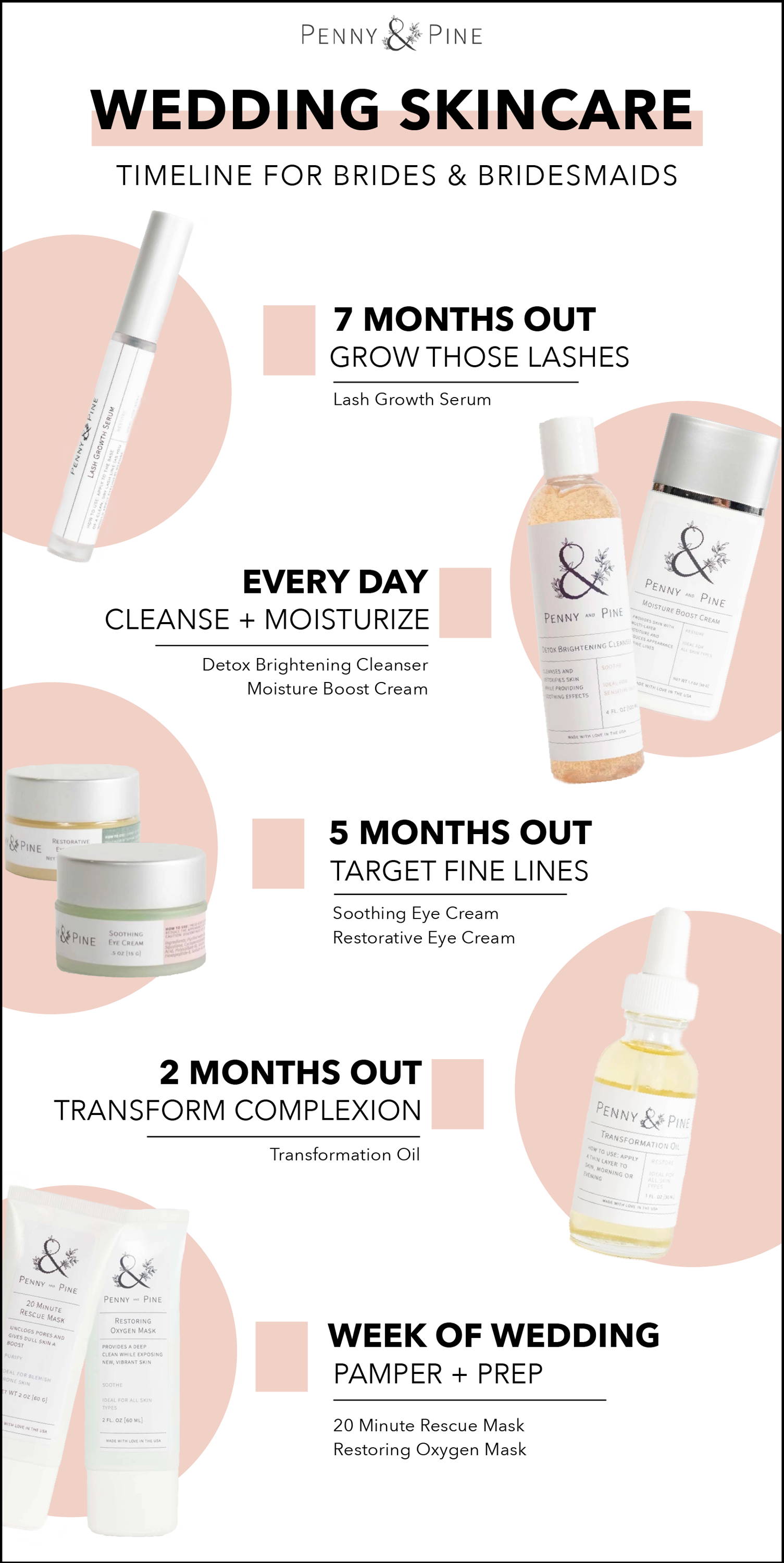 Implement a skincare regimen: There are certain products that you'll want to get started on right away, so that you'll see desired results by your wedding day. For fuller, longer natural lashes, consider starting to use this Lash Growth Serum asap! To see complete results, it will take several months.
Start New Skincare Products: If you're trying new products, now is the time to start. When your skin is unfamiliar with a product, it may result in small breakouts. So, give yourself time to adjust. If you don't have a skincare routine yet, you should start cleansing and moisturizing your skin twice a day. For normal skin, the Moisture Boost Cream and Detox Brightening Cleanser are great choices. Or, check out these products for Dry Skin, Combination Skin, Oily Skin, and Anti-Aging.
Implement a Fitness and Eating Plan: You want to look and feel healthy for the big day. Start planning now, time tends to sneak up on everyone!
---

Target problem skin areas:  Now that you have the basics down, you'll want to add more steps to your skincare routine. Determine where you want to see improvement, and add those products. To reduce fine lines and wrinkles near the eyes, start using eye cream. The Restorative Eye Cream also targets dark circles, while the Soothing Eye Cream helps to reduce puffiness.
Try a New Hairstyle:  If you're wanting a new cut or color for your big day, now's the time to test it out. This leaves time for fixing if it's not your favorite look.
Schedule Hair & Makeup: Appointments book up far in advance. So, once you find a hair and makeup artist that you love, be sure to book them ASAP!
---

Improve Your Complexion: For an overall enhanced complexion, start using a serum or face oil. The Transformation Oil works especially well if your goals are advanced hydration and an even skin tone.
Trial Tanning: If you plan on getting a spray tan, do a trial run around now. This will help you decide on the perfect shade. Plus, it will be a major stress reducer knowing how the tanning process works.
Test Your Hair/Makeup: Around now, you'll likely be having your bridal shower(s) and bachelorette party. Have your hair and makeup artists do a test run for one of these events! That way, you can ask for honest feedback from your closest friends and family.
Teeth Whitening:  If you're getting your teeth professionally whitened, start your appointments now. Or, you can opt for at-home teeth whitening options. Either way, get started soon.
---

Face Masks:  Start using at-home face masks on a regular basis. If you're looking to unclog pores and reduce oil, the 20-Minute Rescue Mask works wonders. For cleaner, more refreshed skin, try the Restoring Oxygen Mask.
Halt Use of Unfamiliar Products:  Only use skincare products that your skin is familiar with. Trying new products now could result in irritation or breakouts.
Wedding Beauty Kit: Plan an emergency beauty kit for your wedding day. Not sure what to include? Check out this article.
Last Haircut/Color: Within the next week or so, you should have your last cut or color leading up to the wedding. Don't try anything new - just stick to the basics!
Take your Fitness & Health Seriously:  If you've been putting off eating healthy and working out, here's your last chance to start! Or, if you currently are working out, take it to the next level. Feeling toned and more energetic will help you to have more confidence on your big day.
Purchase Wedding Beauty Supplies:  If you're doing your own makeup and nails for your wedding, buy supplies now. This gives you time to practice and experiment with different products, shades, and brands.
---

Stick to Your Skincare Routine:  Around now, you'll be running in circles planning the last wedding details. Even though you're insanely busy, don't forget to continue the skincare routine that you've been working so hard at!
Stay Hydrated:  Leading up to your wedding, it's important to drink enough water. Staying hydrated will keep you feeling more alert and motivated.
Get a Wax:  If you're planning on getting waxed, schedule that for at least a week out. This will allow your skin time to heal, avoiding redness and irritation.
---
Treat Unexpected Blemishes:  Let's face it. Blemishes show up at the worst times, especially when you're more stressed than usual. Be prepared to zap that annoying zit by having Overnight Blemish Relief on hand.
Final Spray Tan:  For those getting a spray tan, do so now. You'll want to have enough time for it to settle in and look more natural.
---

At-Home Facial:  To ensure your skin is hydrated and plump for your big day, apply an at-home face mask.
Manicures & Pedicures: Whether you're painting them yourself, or getting your nails done professionally, now's the time! Enjoy!
Wash Your Hair: Shampoo and condition your hair for the last time before your wedding. Clean hair won't hold as well as slightly dirty hair, so washing it the day of isn't a good idea.
Take Time to Relax: Tomorrow is your big day! Make sure you have allowed yourself time to get enough sleep and take a breather. You'll want lots of energy for your wedding day.
---
Congrats - it's finally your wedding day! We hope that this bridal beauty timeline was a beneficial resource. From offering skincare suggestions, to highlighting important scheduling milestones, this timeline allows you to plan ahead for beauty prep. Let us know if you found this helpful in the comments below, or if you have any suggestions! We'd love to hear from you.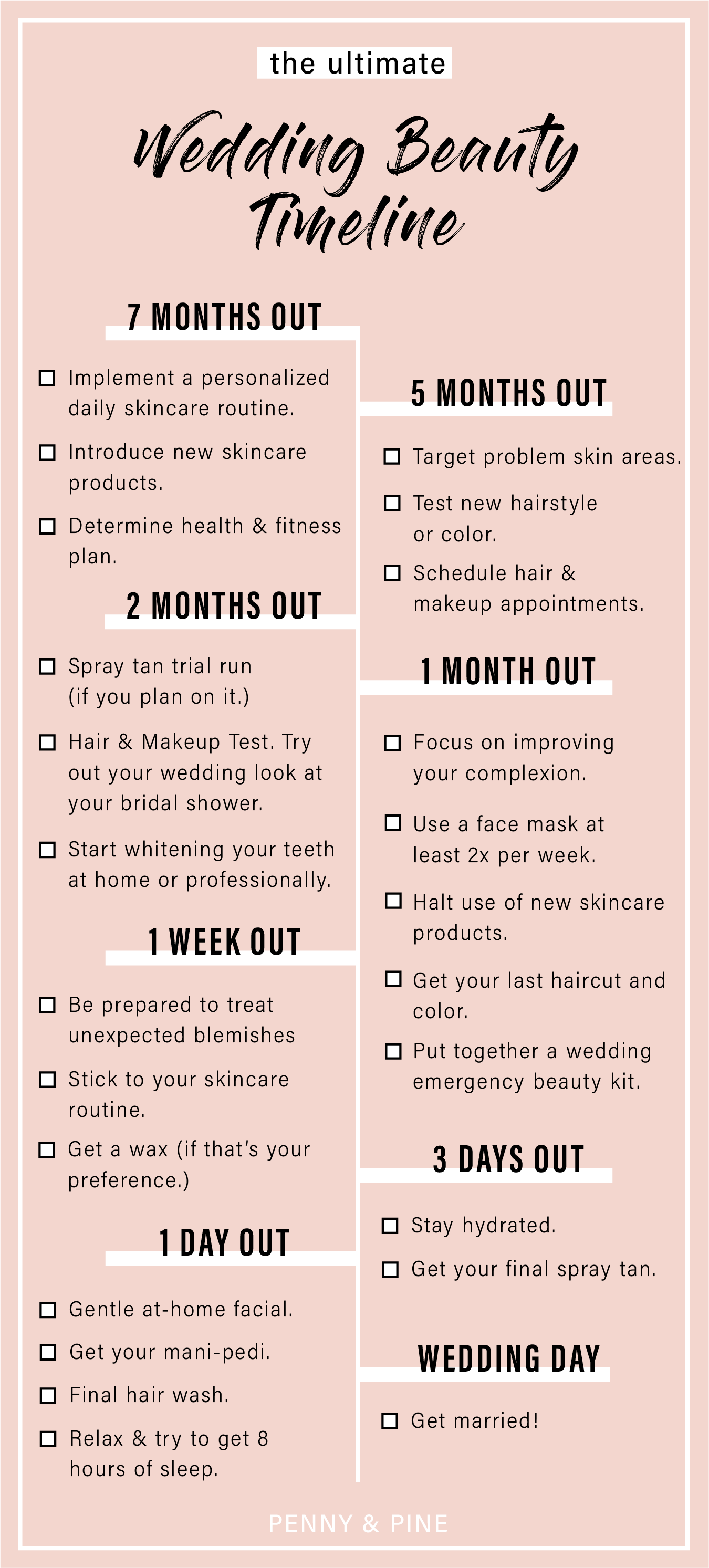 ---
18 comments
---
---